Just like the prospect of taxes or a root canal, Merit-based Incentive Payment System (MIPS) reporting is anxiety-inducing for many. And just when you are ready to take a breath, here comes the 2018 quality and cost reporting cycle.
For this year, Medical Groups or solo practitioners don't have the option of reporting only 90 days of Quality data like they did in 2017. The 2018 reporting period is a full 12 months of data that will be reported to the Centers for Medicare & Medicaid Services (CMS) in the first quarter of 2019, so this year's quality reporting cycle has already started. Just to keep the fun factor pegged, CMS has renamed Advancing Care Information (ACI). It is now called the Promoting Interoperability (PI) performance category.  Improvement Activities (IA) and Promoting Interoperability, still have a minimum 90-day reporting period, but CMS allows you up to a full year to report those activities.  You can use different 90-day windows to satisfy elements of PI and IA.
Facing the Changes
Add to the mix the cost category (Resource Use) for 2018, which will account for 10% of the MIPS score. To compensate, the quality category drops from 60% to 50% of the score.  Over the next several years, Congress directed CMS to increase the weight of Resource Use to 30% of the MIPS Score, while dropping Quality to 30% (see Graph 1.). Fortunately for PALTC Medicine, the deadline for achieving this change was extended to 2022. Promoting Interoperability (PI) stays consistent at 25% of the individual clinicians MIPS weighting and at 30% for Track 1 ACOs. Improvement Activities stay at 15% for individual clinicians. APM-MSSP Track 1 ACOs automatically receive full IA credit toward their MIPS scores. The minimum MIPS score required to avoid penalties is higher. In 2017 the threshold was 3 points. It has risen to 15 points for 2018. CMS continues a bonus payment strategy for 2018 in which eligible clinicians (ECs) earning 70 or more MIPS points will divide $500 million in bonus payments. However, most ECs are likely to see—at best—modest payments of 1%-2%.
Graph 1.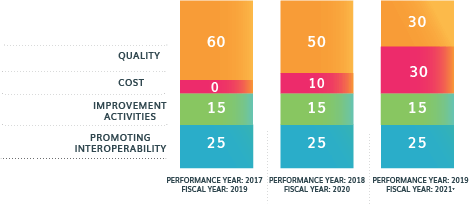 MIPS will become increasingly difficult in subsequent years. While Improvement Activities and Promoting Interoperability remain constant, weights for Quality decrease and Cost increase significantly over time.
Earning quality points in 2018 is more difficult too. A first-class quality strategy will earn you between 3 and 10 points per measure: this requires a 60% reporting rate, with 20 cases minimum.  To earn more than 3 Points for any particular QM, it must have a benchmark. For PALTC, many of the 'best' QMs are associated with Dementia, but those don't have published benchmarks (yet).
One bright spot is that the low volume threshold is higher, so fewer ECs are now required to participate. Only individual ECs who receive more than $90,000 in Medicare Part B reimbursement and submit claims for more than 200 unique Part B beneficiaries are required to participate in MIPS. However, excluded ECs who belong to a practice that elects group reporting are not excluded.
Progress Instead of Procrastinating
While you don't need to report for several months, don't procrastinate; and instead of reaching for antacids and preparing for sleepless nights, take a deep breath and inventory where you are, what you need to do, and how to do it. You might be surprised to discover that you're off to a better start than you think.
How and what you report will depends on your group size and ACO affiliation. If you aren't in an Advanced Payment Model (APM) you're still subject to some MIPS measures and scoring. If you tax ID is listed with an ACO, it will be reported through the APM and use its metrics. In this case, your MIPS score will be derived from the Type 1 ACO's performance. If you're not sure if you are required to report, enter your National Provider Identifier (NPI) in the MIPS Lookup Tool (https://qpp.cms.gov/participation-lookup) to make that determination. If you know you are in an APM, use the APM Lookup Tool (https://data.cms.gov/qplookup).
If you are on your own, you determine which quality measures you want to report—you just have to select six. Start with "low-hanging fruit," those measures that you know you perform well on. Each measure comes with different specifications, codes and reporting options, so you will want to check all of this out well before reporting (https://qpp.cms.gov/measures/quality). Every measure has four elements:
Denominator. This describes those cases that are eligible to be reported for a measure—including patient population and demographics.
Numerator. This is the specific clinical action required by the measure for reporting and performance.
Reporting Frequency. Each measure has a frequency requirement that states how often you need to report the measure. Some measures must be reported for each visit; others may only need to be reported once annually.
Performance timeline. Some quality measures have a designated time frame in which the measure should be completed.
As you get started, err on the side of caution. Consider:
Focusing on areas where there are the greatest opportunities for improvement. Make sure you have processes in place to make improvements and that everyone on the team understands their roles and how to document appropriately. Record the measures for every relevant patient and every encounter.
While there is a minimum number of measures to report, there is no reason you can't report on more if you have the workflow and processes in place to do so and access to the data.
Identify high risk patients and encourage/enable more primary care visits to manage conditions such as infections and fall risk to prevent complications and promptly address acute changes that lead to hospitalizations.
The Magic of MIPS-Friendly EHRs
It's important to have MIPS-friendly electronic health records (EHRs). This means features such as:
Activated alerts. Alert notifications for quality measures associated with the MIPS program that notify you when the patient qualifies for further evaluation and when you should take action, as well as when a patient may not be appropriate to be included in a particular quality measure.
MIPS dashboards. Track your MIPS progress in each category: Promoting Interoperability, Quality, Cost, and Improvement Activities. An effective dashboard will enable you to click through measures and see if there are additional patients you can be reporting on, as well as give you an overview throughout the year.
Access to a MIPS score calculator to preview your MIPS score and test submission.
Advice from a MIPS High Scorer (AKA a MIPS Pro)!
"For the quality measures component of MIPS, you really need good data to monitor and control this to get the best scores possible," says Jean Butcher, MBA, Vice President & Chief Operating Officer of Collaborative Geriatrics, Inc. in Katy, TX. There are outside entities that can come in, data mine, and report through your registry, she notes. She adds that while her EHR, GEHRIMED, narrows down quality measures to 15 that "relate to our space and codes, we still had to do research to understand which ones are likely to report best for us." She suggests, "Start educating your providers on which measures you are tracking. Work with them to identify patients who meet the reporting criteria and ask some questions based on diagnosis or other information." All of the quality measurement data collection should be integrated into your workflow, stresses Butcher. "If you don't have that, you are in a whole different kettle of fish. It creates much more work for you. And if this work has to be done on paper, that can be a nightmare."
Make good use of your dashboards, Butcher stresses. "If you're chugging along and meeting or exceeding your benchmarks, you can just tell everyone to keep it up. If you aren't happy with what you see, you can make necessary adjustments." For example, she says, "If you get halfway through the year and practitioners' numbers aren't consistently staying above benchmarks, we will bring them in to talk so that we can identify and correct any issues."
Many EHRs have quality reporting elements and capabilities built-in. However, Butcher notes that not all such EHRs are created equal. "They are almost all ambulatory-based EHRs that apply to multiple specialties. If you are lucky, these will work to some degree for you, but the coding logic and other factors don't completely apply to post-acute and long-term care," she says. It is important to make sure that your EHR vendor understands your unique needs as a post-acute and long-term care provider.
Don't get discouraged if there are compliance issues among practitioners. "Large and small groups alike have experienced some sort of issues with people complying. Some practitioners may say, 'I just can't do it.' When this happens, we try to offer support and education. If that doesn't work, we will push a little harder," says Butcher. No one wants to lose money, she notes, so reminding them that they can lose 4-6% of their income if they don't comply can be a powerful motivator. "People don't want to lose money. No one is okay with that," she says.
You don't have to go it alone, stresses Butcher. There are many resources out there (see resources at the end of the article).
Butcher also suggests connecting with national and state professional organizations and state/regional Quality Improvement Organizations for resources and guidance.
Light at the Tunnel's End
If you use your dashboards and watch your progress, you can identify issues or glitches and address them promptly. By the time the yearend is in view, you will be almost there.
You have several options for submitting your MIPS data, although the easiest and most efficient is through your EHR. You have until March of 2019 to submit. Each MIPS category can be submitted with different options. Selecting one submission option for a category doesn't mean that all others must be submitted the same way.
"In the end, MIPS isn't going away. We need to stay current with the language and general skill sets in terms of quality measures," says Butcher. She offers, "I think it will change and get better, but these changes will take time." In the meantime, she says, "The conversation about pay-for-performance and value-based medicine will continue, but the need to decrease administrative burdens on practices is on the radar screen. So we need to be part of this conversation. We can't just leave it to everyone else and hope they do what's right for us."
MIPS Resources:
-CMS MIPS Site: https://www.cms.gov/Medicare/Quality-Payment-Program/Resource-Library/2018-Resources.html
-2018 MIPS for LT-PAC Medicine (Webinar): http://info.gehrimed.com/hubfs/Videos/MIPS-Webinar-2018.mp4
-Introduction to MIPS: https://paltc.org/mips-merit-based-incentive-payment-system
-Overview of MACRA for PA/LTC Practitioners (Webinar):  https://paltc.org/product-store/archived-webinar-overview-macra-paltc-practitioner
Learn how GEHRIMED can help your practice successfully complete MIPS: https://www.gehrimed.com/about/contact/