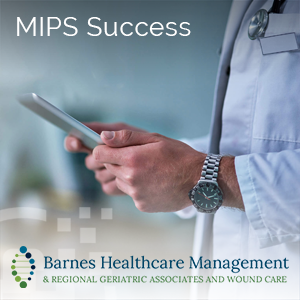 Barnes Healthcare Management, LLC, may not love MIPS; but they were "excited" about reporting their 2017 data. And why not? They've got their documentation, tracking, and reporting functioning like a well-oiled machine; and they achieved a nearly perfect score for the year.
Tracking and reporting on quality measures wasn't new to them. They had previously reported under the Physician Quality Reporting System (PQRS), MIPS's predecessor. However, Angie Woods, CPC, Barnes Health Office Manager, and Sarah Stone, CPC, Billing Manager said, "We knew we couldn't just do it the same way this year." So, they turned to GEHRIMED.
"GEHRIMED provided everything for us to be successful. We could monitor our progress all the way through. We created spreadsheets and could watch the numbers over time, so we weren't scrambling at the end of the year," according to Angie and Sarah. Then when the time came to submit the MIPS data to Medicare, Sarah says," GEHRIMED reported directly for us. Previously, we would spend hours on this process."
Dashboards Make for Smooth Ride, and Other Tips to Triumph
"The dashboards were amazing and saved a lot of sleepless nights," says Angie. She adds, "Any time we wanted to see where a provider was on any given day, we could check in real-time." They could sit down with practitioners who seemed to be having problems, watch the person in action, and identify/correct any missteps they were taking. Sarah notes, "This wouldn't have been as easy or productive without the dashboards."
View GEHRIMED's MIPS Dashboards in action: http://info.gehrimed.com/mips-dashboard
Angie and Sarah offer some tips from their experience that helped enable their success:
They trained everyone at a practice-wide meeting, where all the attendees received the same information (to get them on the same page) and had a chance to ask questions and seek further guidance.
They acknowledged successes. "We would send out emails to congratulate practitioners who were doing well," they say.
They offered help and support to those who needed it. "If someone had a problem, we would call and walk them through it. Most of the time, we could resolve the problem just by taking the time to listen and answer questions," Sarah and Angie observe.
They choose to provide data on all patients meeting the requirements for each quality measure. "It would be too convoluted otherwise." They didn't worry that this would impact their numbers. Sarah says, "What you chart is what you do and what you do is what you chart, and this is how you answer the MIPS questions." She adds, "There are patients who aren't compliant, and you have to be honest about this." However, at the same time, it helps identify these patients and enables you to address barriers and resistance to compliance.
They assigned a knowledgeable, dedicated individual as the point person who understands the process and can answer everyone's questions.
They make best use of practitioners' time. "Tracking down labs or other information isn't the best use of their time. We had staff members who would do this for them," Sarah and Angie note.
They have weekly meeting with a roundtable discussion to talk about the issues. "You don't want this to be a complaint session," Sarah says. Instead, you want people sharing questions and suggestions and brainstorming about ways to do things better. They get and keep everyone on the same page through these meetings by having only one person take notes and putting this information in Google Books for everyone to access as needed. This is key to ensuring that everyone gets the same information from the discussions and is on the same page moving forward.
They have a data warehouse—containing Medicare claims-based information—that can be used to accurately risk-score each patient. Having the ability to access data such as lab results, x-rays, hospitalizations/ER visits, and overall care costs can help identify red flags. For instance, if a patient has a low risk score but high costs, this suggests that the patient hasn't been risk-scored appropriately or that they are receiving care or services that may not be necessary. The practice then can work with the practitioners to determine if they are selecting diagnostic codes that provide a true, accurate picture of the patient. Angie and Sarah say, "We can drill down per patient and try to see—from a cost-perspective—what is happening and how we can improve quality of life while reducing costs."
Sometimes, Sarah and Angie admit, practitioners are resistant. Perhaps they feel like this is extra work, or they just don't like using technology. Some are close to retirement or otherwise unmotivated. Sarah suggests, "You may have to show practitioners hard numbers about what would happen to their pay if they don't complete the data. This can be a powerful motivator." There are going to be some complaints, Sarah and Angie note, but practitioners want to do the right thing, and most will buy into it eventually, especially when the practice does everything possible to make it easier for them.
Angie and Sarah note that their most initially resistant practitioner is among the most active participants now. "He takes pride in his numbers, and he really stays on top of things." They add, "Once they figure out that it's not as bad as they think and they see what they're accomplishing, practitioners get motivated."
Constant communication and a culture where people feel free to ask questions and share concerns is essential. Angie notes, "About 99% of every problem is due to miscommunication. You need good communication and organization. You need to get the right people on your team and utilize their skills and strengths appropriately." GEHRIMED's integrated system "makes things much easier," Angie and Sarah say. "It really streamlines the process."
For more information about GEHRIMED's MIPS dashboards, view the following video: http://info.gehrimed.com/mips-dashboard