Adopting an EHR
January 20th, 2017
Switch to the Industry's Leading LTPAC EHR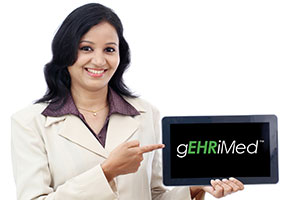 Whether you're looking to switch to GEHRIMED from paper, or an existing EHR, we make the transition simple and seamless. With over 5,200 users, you'll see why we're the only EHR solution for long term/post-acute care clinicians.
Switching to GEHRIMED from an existing EHR
An EHR designed for LTC practitioners, by LTC practitioners. Our EHR is tailored to the LTPAC workflow, therefore from start to finish our design is seamless and natural.
GEHRIMED Benefits:
Easy record transfer of existing patient data into GEHRIMED . Our implementation team will import your existing data get you up and fully running in under 30 days
CPT® Code Protection – Access only the information that is important to you. GEHRIMED is place-of-service aware and only allows practitioners to access LTC-related codes. Our CPT code protection helps practitioners reduce the risk of selecting the wrong billing code and sending an inaccurate bill – ultimately delaying the billing cycle.
Real-time data exchange with PointClickCare facilities to help support the communication between practitioners, facilities and pharmacies.
More than just a technology company. Our in-house Regulatory Team to keep you compliant in an ever-changing regulatory environment. Our team is equipped with regulatory specialists that help walk our clients through complex LTC regulatory landscape.
Activated MIPS alters specific to measures required for long-term care practitioners.
  Switching to GEHRIMED from Paper
GEHRIMED Benefits:
Access always-legible, on-demand patient information anytime and anywhere, never fear data loss again.
Create structured data that is shareable and reusable with other practitioners and facility EHRs.
Protect your patient data, and prevent unauthorized users from retrieving or viewing patient records.
Reduce the need for phone calls, faxes and text messages, leading to insufficient and inaccurate data.
Ensure you are always working in a HIPAA-compliant environment and reduce PHI exposure
Decrease Risk of Audits, all of your patient notes and data are safely secured on the cloud. If you ever faced with an audit, it is quick and easy to retrieve all necessary documentation.
Automated billing reports to help reduce the time you spend on administrative tasks
MIPS – You cannot successfully pass MIPS in future years without a certified EHR.