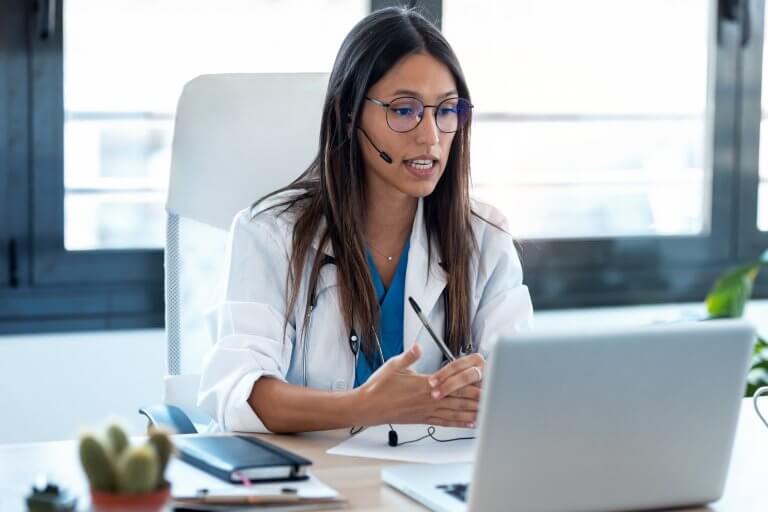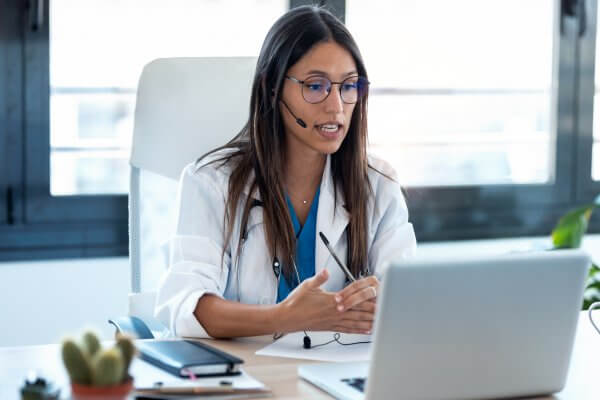 Welcome to the first-ever GEHRIMED Training and Education blog! With these posts, we intend to bring you summaries of the previous quarter's new and enhanced GEHRIMED features, relevant MIPS reminders, and helpful tips and tricks for charting more efficiently and effectively in GEHRIMED. We often hear, "Help me document with fewer clicks," and we want to do just that.
Meanwhile, we chose this blog format rather than an e-mailed newsletter because it makes it easy for your staff to access the information without a password. Plus, we can archive the content in a way that you and your future new GEHRIMED users can view easily.
Summary of Q3 2020 Feature Enhancements
Please click on the title of the release notes for more information and screenshots of the features listed below.
A print option is now available on the Facility Census screen, enabling users to print a list of patients without download or encryption.
The Manage Users window now displays the features and subscriptions for GEHRIMED users as icons. This feature is only available to administrator-level users with access to the Edit Users window.
GEHRIMED users may now delete Resolved Patient Notes. Once deleted, the resolved note will appear on the Deleted Notes tab.
Adding or editing directory listings will now prompt a warning and confirmation before save to ensure notification of PHI delivery.
GEHRIMED Administrators can now access an option on the group details that places a restriction on the ICD codes added to the encounter's primary billing diagnosis. Once enabled, your providers cannot sign an encounter if a non-primary diagnosis code is listed as the primary billing diagnosis.
GEHRIMED Administrator users can also create CPT-ICD restrictions now. When a CPT-ICD restriction is active for a group, providers are warned that the ICD Code cannot be the Primary Billing Diagnosis on an encounter.
MIPS Reminders
MIPS eligibility for each NPI in your practice can be confirmed on the QPP website. As 2020 draws to a close, please keep in mind that you'll need a 70% reporting rate for any quality measure you wish to report with complete data in order to earn the highest possible score.
More information about the two available hardship exceptions for 2020, Promoting Interoperability Performance Category Hardship Exception and the Extreme and Uncontrollable Circumstances Exception for any/all categories can also be found on the QPP website.
All customers of the Geriatric Practice Management QCDR for QPP reporting receive a MIPS coaching call during Q4. During this call, we'll view your dashboard together and help you identify areas of improvement before the reporting year is over.
Tips & Tricks
Tip #1
Did you know that you can create User Normals while you're documenting a patient encounter?
"Normal" text is a word or phrase that you'd commonly use when completing nearly any part of an encounter. Super-users tell us that populating Normals in GEHRIMED helps them reduce the amount of time they spend documenting each visit.
For example, while documenting an encounter for this test patient, I typed the text you see in the green box, and then I clicked the "Set text as User Normal" button you see below. The text appeared as User Normal #1 on the right-hand side of my screen. In the future, If I'd like to use that #1 User Normal text, I would simply click on the box that contains the text and it will automatically populate for me.


Users may add multiple User Normals for each template item. If multiple User Normals are present and you'd like to rearrange the order in which they appear, simply click on the Normal's number and then drag it to the desired position.
Tip #2
Did you know that you can now schedule recurring patient visits and that there are multiple ways to access the Patient Visits scheduling tool?
You can access the Patient Visits scheduling tool from the Patient Details screen by clicking the blue Scheduled Visits tab in the box below and then clicking the green plus sign on the left.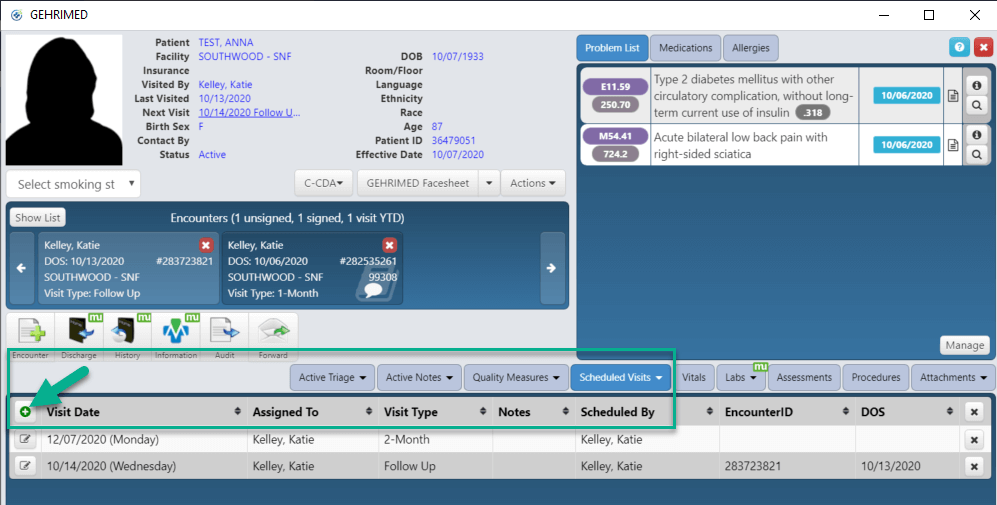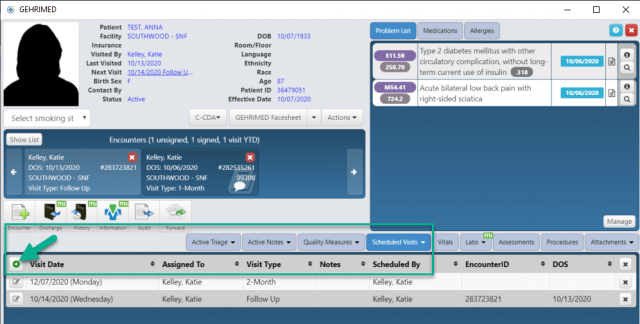 You can also access it from the Facility Census screen by clicking the calendar icon in the box shown below.


Finally, you can access the scheduling tool in an unsigned encounter (after you've clicked Preview and Sign) by clicking the Manage Visits button in the box shown below.


Once you've opened the Manage Patient Scheduled Visits tool, you can add a new visit, or a series of recurring visits, by clicking the green plus sign in the upper left corner. Clicking the "Recurring" box in the scheduling tool shown below allows you to choose the frequency and number of occurrences of these visits.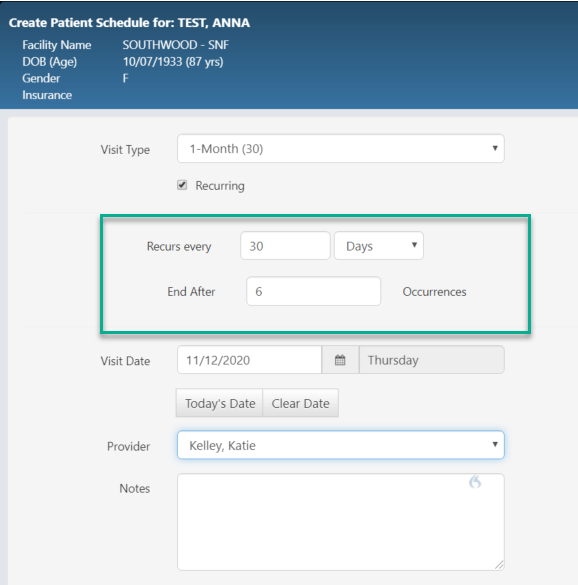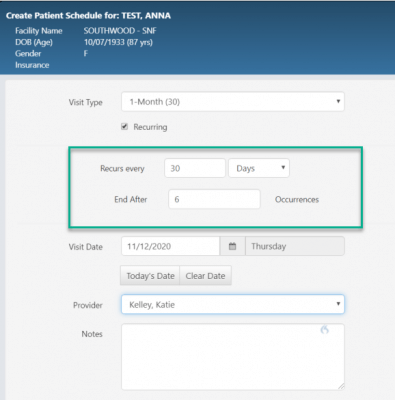 Once you click Save, you'll be able to view the list of recurring visits, along with the days of the week on which they occur. If you'd like to change the date of any of these visits, perhaps to move a Sunday visit to Monday, click the Edit icon to the left of the visit date, make your changes, and then click Save.

One Final Tip
If you click the box shown above beside "Enable patient scheduled visits review after encounter signature for [clinician name]," you'll be prompted to review scheduled visits for all patients at that point in your workflow. This setting is user-specific, so each clinician in your practice can decide whether they would like to implement this feature.
For more information about any of the topics addressed above, please reach out to Katie Kelley, GPM's EHR trainer and regulatory programs coach.