MIPS 2017 Overview
February 7th, 2017
MIPS 2017 – A Critical Year for LTPAC Practitioners
MACRA Background
The Medicare Access & CHIP Reauthorization Act of 2015 (MACRA) MACRA places each Medicare Part B provider into the following categories:
Merit-based Incentive Payment System (MIPS) – 80% of all clinicians.
Advanced Alternative Payment Models (Advanced APMs) – fewer than 5% of all clinicians.
Both, MIPS and APM – approximately 15% of all clinicians.
The Merit-Based Incentive Payment System (MIPS)
A large majority of clinicians will be placed into MIPS.
Leverages and augments PQRS, Value-Based Modifier (VBM) and Meaningful Use rules; replaces existing Medicare quality/cost reporting programs.
A Clinician's performance composite score will be the basis for positive, negative or zero payment adjustments beginning in 2019.
The payment adjustment schedule will be based on 2017 performance scores.
Who is Eligible for MIPS?
Visit the Quality Payment Program page on CMS' website: https://qpp.cms.gov/
2017 MIPS Components & Weights

MIPS Timeline
The first performance period opens January 1, 2017, and closes December 31, 2017. During the performance year clinicians will record quality data and how technology (Certified EHR) supported their practice.
To avoid a negative 4% payment adjustment, clinicians will submit quality data and how technology (Certified EHR) supported their practice.
After submission of data, Medicare will provide feedback on performance.
Clinicians can earn a positive, neutral, or negative payment adjustment for their 2017 MIPS performance. Clinicians need a certified EHR to successfully complete MIPS.
October 2nd, 2017 is the last day to participate in a 90-day reporting period.
MIPS at a Glance: Relative Weight Over Time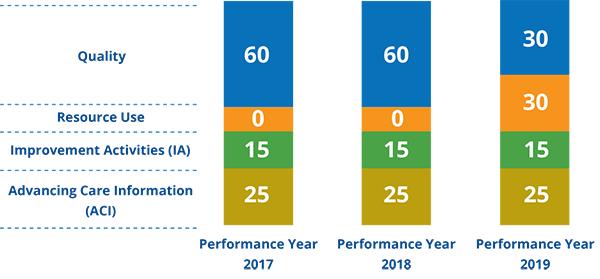 MIPS Incentive vs. Penalty
With each passing year of MIPS the penalty and incentive percentages increase. While the penalty percentage is a guaranteed deduction (ex. if you do not participate in MIPS 2017 you will be penalized 4%), the incentive percentage is not a x number for the performance year (ex. if you perform 'full participation' for MIPS 2017 you are not guaranteed a 4% incentive, it is up to 4%). MIPS is a budget neutral program, therefore, the incentives are derived from your colleagues' penalty payments.

MIPS 2017 – The Transitional Year
Pick Your Pace!
2017 is the 'transitional year' in which eligible clinicians can pick their own pace. GEHRIMED understands every practice has an optimum participation pace, and we will help you with a solution to successfully complete the program. Not participating in MIPS will result in a negative 4% payment adjustment. As a reminder, MIPS will become increasingly more difficult in the subsequent years.
Pick tools that are going to match the pace that you want to adopt CMS's mandates, and they are mandates. GEHRIMED will help you try and identify the best strategies for avoiding penalties and possibly getting a small bonus during the initial year of MIPS.
Full Year Participation (Run)

Submit a full year of data in 2017 to earn a positive adjustment.

Partial Year Participation (Walk)

Submit 90 consecutive days of 2017 data to Medicare to earn a neutral or positive payment adjustment.
If you haven't started by January 1st, 2017, start anytime between January 1, 2017 and October 2, 2017.

Test Pace Participation (Crawl)

Submit the bare minimum data in 2017 to avoid a penalty. Submit one quality measure or improvement activity. Or, submit 4 or 5 Advancing Care Information measures
Per CMS: one Quality Measure for one patient, one time.
How GEHRIMED Can Help You with MIPS
MIPS-ready platform
ONC Certified solution
Offer Integrated reporting and dashboards
Reduce the risk that you will be subject to a negative penalty under MIPS.
Client-specific webinars with strategic approaches
User Group Meetings – with strategy specific tasks
Feedback from in-house Regulatory Team
Experience with >30% User Base in APM
Want to learn more about MIPS?
View the recorded webinar to unlock access to 2017 Strategies and Timelines, and the 2018 Proposed Changes.
We're ready to help you. Contact us today by phone at (828) 348-2888, or get in touch via our contact form.