Workflow
January 18th, 2017
Medical Charting Designed to Work for You
GEHRIMED's predictive templates streamline medical charting for LTPAC practitioners, by creating a workflow that works the way you work. Over 5,200 users agree, our efficient and intuitive design helps reduce charting time and enhances productivity.

Click to enlarge
Chart with Clarity
GEHRIMED's Census Manager provides practitioners with a complete view of their clinical dashboard enabling easy access to: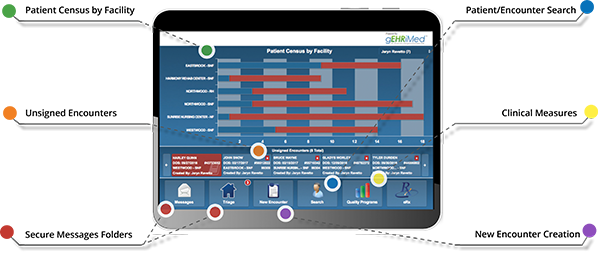 Click to enlarge
Chart Efficiently
Save time with minimal data entry.
Our time-saving design requires only five fields for new patient entry: First and Last Name, Date of Birth, Gender and Zip Code. GEHRIMED's smart lookup automatically analyzes your patient entry for potential existing patient matches, including inexact/similar matches, to avoid duplication of patients.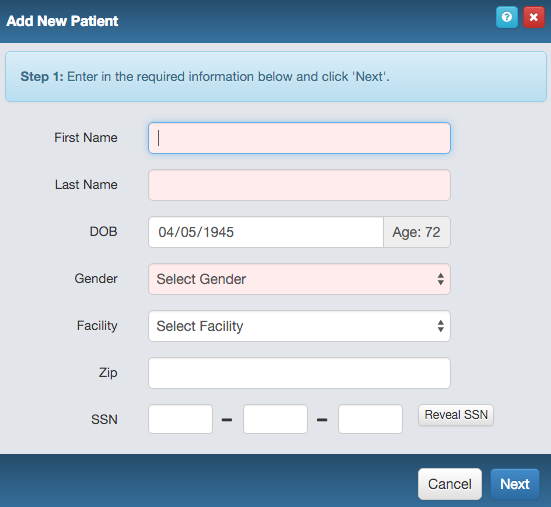 Reduce key strokes with encounter capture shortcuts.
Integrated medical voice recognition facilitates rapid note creation by accurately translating voice commands into text-rich, detailed clinical notes directly into GEHRIMED. Dramatically reduce documentation time by incorporating customized macros commands – narrate a single command to populate text-rich notes for frequently used text and 'medical normals.'
Chart Intuitively
Capturing the Encounter:
Logically tab through the entire encounter sequence. History > Review of Systems > Vitals > Physical Exam > Diagnosis > Assessment > Plan.
Progress through the following elements in each tab:
CPT®  Code Protection
Access only the codes you need. GEHRIMED is Place-of-Service aware, meaning the software only allows LTPAC practitioners to access LTPAC-related codes. The intelligent coding system helps reduce the likelihood of selecting the wrong CPT Code and ultimately sending an incorrect bill.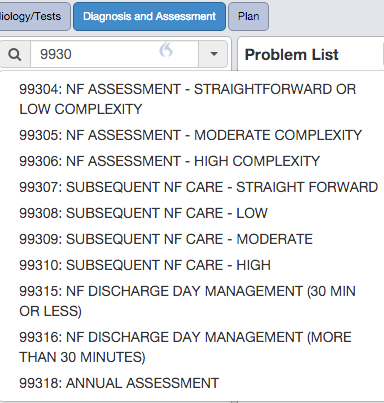 ICD-10
Naturally search through diagnosis codes using previously used ICD-9 codes or simply by filtering by text. With our ICD code match and refiner, there is no need to ever memorize another diagnosis code.
Chart Compliantly
Confidently treat your patients without the worry of missing important regulatory measures.  GEHRIMED equips you with the tools necessary to avoid facing MIPS-related penalties. Activated alerts for quality measures notify practitioners when the patient qualifies for further evaluation and when additional action should be taken. Our in-house Regulatory Team keeps practitioners and practice managers compliant in an ever-changing regulatory environment.
Chart Seamlessly
Electronically exchanging Protected Health Information (PHI) has never been more secure. Stay connected and continue collaborating with your care team through GEHRIMED's HIPAA-compliant secure messaging.
Automated reporting distributes each signed encounter to the associated facility. Practitioners can also electronically send patient's chart and complete medical record to referring offices. Additionally, automated billing reports can be triggered after the encounter is signed.
Coming Soon! Integrated Services with GEHRIMED and PointClickCare®. The ONC-certified solution provides practitioners with real-time interoperable patient data, streamline allowing physicians to chart in one application, while updating the patient electronic health record simultaneously in both the GEHRIMED and PointClickCare® web and mobile applications.