ASHEVILLE, N.C., OCTOBER 23, 2018
GPM announced today the release of CareTeam, a Senior Care collaboration platform. CareTeam was developed to help the Senior Care community to: Enhance Communication, Prevent Rehospitalizations, Manage Change in Conditions, Boost 5-Star Ratings, and Optimize Reimbursements.
Geriatric Practice Management (GPM) a software solution and services company devoted to the support of the long-term/post-acute care (LTPAC) community announced today the release of CareTeamTM, a collaboration platform that connects LTPAC Physicians with Senior Care Facilities by enabling real-time information exchange, including access to:
View the physician's encounters once the patient's progress note has been started
Communicate with practitioners, Nursing Home Staff, Pharmacies and Hospitals via a HIPAA-compliant messaging solution
View patient insights such as: Rehospitalization Rates, Frailty Indices, Patients at Risk, Medicare vs. Medicaid Patient View.
Manage patient's change in condition and prioritization based on patient's acuity with mobile practitioners
Camille Holloway, Lifecare Physician Services, early adopter of CareTeam, "Our facility staff is extremely excited to access encounters on a real-time basis. CareTeam has reduced the amount of time our team spends chasing charts, it has improved charting accuracy, and provided a holistic patient view – we are no longer concerned about missing important regulatory visits, we now have the ability to view the visit as having been started or completed."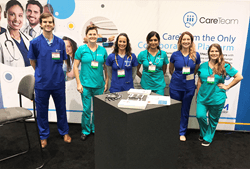 CareTeam was developed in response to the need for a more comprehensive and secure solution that would support instant-access to patient information, strengthen communication between the Senior Care facilities and practitioners, and address the rapidly changing regulatory requirements.
"Caring for residents in LTPAC facilities was always challenging. The individual caregivers, physicians, therapists, and pharmacists often work for different organizations. Each is subject to different Federal regulations – yet expected to deliver coordinated care. CareTeam is a very simple, and elegant, solution for organizing a virtual care team; it offers a common patient centric view to anyone with secure internet access," Rod Baird, President Geriatric Practice Management.
The LTPAC market is one of the most complex and costly patient populations in healthcare. As the market evolves from a fee-for-service model to a value-based care approach, an increased focus on reimbursement tied to level of complexity and quality outcomes is driving new practice models that are not currently employed at scale. Care Team's patient insights are the first to use a validated frailty score to predict clinical risk. This enables medical providers to have objective data illustrating the significance of clinical complexity while assessing patients and facility operators to be on the forefront of managing outcomes.
The new collaboration application will provide basic application services at no-charge to enable and support the senior care continuum in the most economical way. To learn more CareTeam register for the upcoming CareTeam webinar: http://bit.ly/CareTeamWebinar
Geriatric Practice Management, Corp
GPM is a software solution and services company devoted to the support of the LTPAC community. A focus on solving LTPAC's unique problems has made GPM the market's leading provider of medical EHR solutions, with the GEHRIMED EHR as the flagship product. GPM believes in the potential of powerful, intuitive technological solutions to make LTPAC professionals jobs easier, more profitable, and more effective.