Welcome to the 2021 Q3 GEHRIMED Training and Education Blog!
Our intent is for this blog to bring you a summary of the previous quarter's new and enhanced GEHRIMED features, relevant MIPS reminders and helpful hints for charting more efficiently and effectively in GEHRIMED. "Help me document with fewer clicks," is a common request we hear, and we want to help you do just that. We chose the blog format rather than an e-mailed newsletter because your staff will be able to access the postings without a password and we'll archive the content in a way that you and your future new GEHRIMED users can easily view.
Summary of previous quarter's feature enhancements
Please click on the title of the release notes for more information and screen shots of the features listed below.
GEHRIMED has updated the following measures to comply with the 2021 CMS MIPS CQM specifications:
Quality ID #006: Coronary Artery Disease (CAD): Antiplatelet Therapy
Quality ID #236: Controlling High Blood Pressure
The vitals fields now retain zeros that occur after a decimal point. This applies to Weight, BMI, Pulse, Blood Pressure, o2 Saturation, o2 Flow Rate, Temperature, Respiratory Rate, Blood Sugar and Pain Level.
GEHRIMED added the following data collection measures for use in ACO workflows:
Diabetes: Hemoglobin A1c (HbA1c) Poor Control (>9%) for patients aged 18-65 who are not receiving hospice services
Controlling High Blood Pressure for patients aged 18-65 who are not receiving hospice services
Preventive Care and Screening: Screening for Clinical Depression and Follow-Up Plan
The GEHRIMED iOS application was updated for functionality improvements. This update applied only to iPad users.
Manage Problem List now includes an option for Billing Providers to view, review and restore patient Problem List entries for a patient, including those entries which have been deleted. Patient Problem List entries are deleted using the Edit ICD Code dialog box and changing the Current Status to Deleted (Entered in Error) or through processes such as merger and reconciliations.
MIPS Reminders
For full participation in 2021 MIPS, CMS requires eligible clinicians, or groups, to report on at least six quality measures, including one outcome or high priority measure, for 70% or more of their total eligible population (all-payer when submitting through a QCDR), for the full year, with a minimum of 20 eligible and a minimum of one Medicare beneficiary per measure. The Quality category will represent 40% of the total 2021 MIPS score with Cost increasing to 20%. These changes will be reflected in the GEHRIMED MIPS Dashboard when it is updated for 2021 later this quarter.
Final 2020 MIPS results should be published by CMS in the QPP Portal during Q3. This information will include final scoring for Quality, Improvement Activities, Promoting Interoperability. Cost for the 2020 reporting year will automatically be re-weighted for all participants, as announced by CMS during Q2. Payment adjustments for 2022 will be included in this information.
The Promoting Interoperability Category Hardship Exception and the Extreme and Uncontrollable Circumstances Hardship Exception applications are open now through December 31, 2021.
For group reporting, it is important to note that 50% of your group must participate in each Improvement Activity you select. Please contact us for more information about 2021 Improvement Activity Data Validation requirements.
Tips & Tricks
Tip #1
Did you know that patients can be discharged from both the Patient Details and the Facility Census screens?
To discharge from the Patient Details screen, click the Discharge button shown below: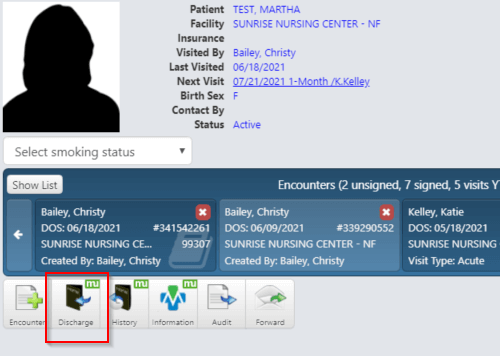 This will open the Discharge dialog box in which you enter relevant information about this discharge such as the date, reason and discharging clinician. You may discharge with or without creating an encounter.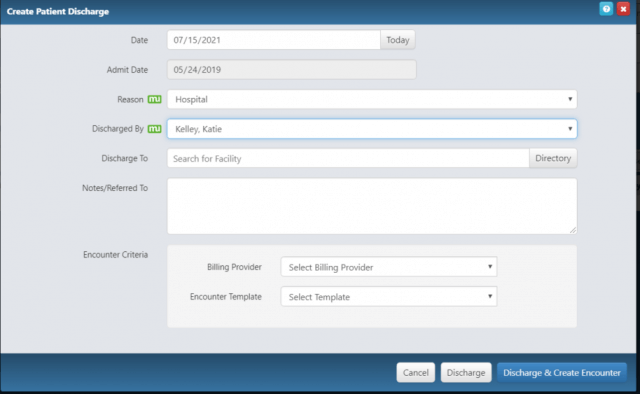 After you click Discharge, you will be able to download, send or print a Summary of Care document (CCDA). If this document isn't needed, you may skip this step.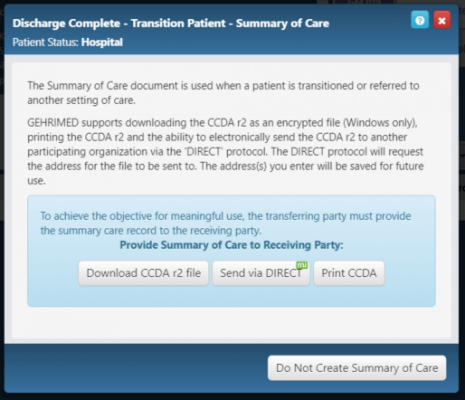 Once the patient has been discharged, she will appear on that facility's Facility Discharged tab in the Facility Census view. The patient will remain here for 30 days, after which she will no longer appear on any Facility Census tabs but will remain in GEHRIMED indefinitely as an inactive patient who can be re-admitted if needed. During the 30-day period, you may re-admit the patient while in the Patient Details screen by clicking the Readmit button:

To discharge a patient from the Facility Census screen, click the Discharge button shown below and follow the discharge steps described above:


Once discharged, the patient may be re-admitted using the Readmit Patient button on the Facility Discharged tab in the Facility Census view:


If a patient is discharged for a specified reason of Death, the patient name will appear in red, italicized font on the Facility Discharged tab. Patients discharged as deceased may still be readmitted in the event that reason for discharged was selected in error.
Tip #2
Did you know that GEHRIMED generates several standard reports for your organization on a daily, weekly, and monthly basis? Standard reports can be accessed from the home screen by clicking the Reports button in the bottom right corner or via the Options menu, selecting View Reports. The reports are organized in file folders, each of which contains the reports that were run on that date.
Reports must be encrypted and downloaded before they can be viewed. An external utility, like 7-Zip is required to decrypt the file content; 7-Zip is free and easy to install on Windows devices. You will enter a password in order the encrypt the file; we recommend that you do not use your GEHRIMED password, in the event you need to share the reports with others.
Available reports include the following: Facility Setup Report, New Patient Created Report, Patient Discharge Report, User Account Summary, CPT Summary, Days to Sign Encounters, Patient Census, Duplicate Patient and more. Please reach out for a complete list or additional training.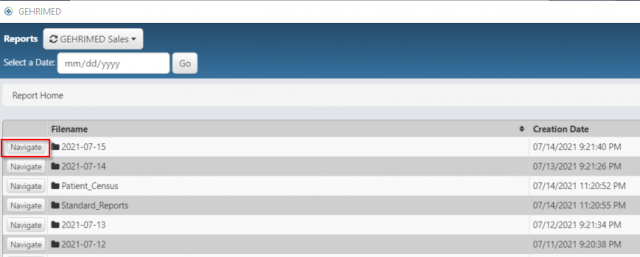 For more information about any of the topics addressed above, please reach out to Product Operations Specialist Katie Kelley.