Welcome to the 2021 Q1 GEHRIMED Training and Education Blog!
Our intent is for this blog to bring you a summary of the previous quarter's new and enhanced GEHRIMED features, relevant MIPS reminders and helpful hints for charting more efficiently and effectively in GEHRIMED. "Help me document with fewer clicks," is a common request we hear, and we want to help you do just that. We chose the blog format rather than an e-mailed newsletter because your staff will be able to access the postings without a password and we'll archive the content in a way that you and your future new GEHRIMED users can easily view.
Summary of previous quarter's feature enhancements
Please click on the title of the release notes for more information and screenshots of the features listed below.
October 28, 2020, Release Notes
Pain Level and Blood Sugar may now be dictated using Dragon on patient's vitals entries.
A bug that prevented users from printing on the Patient Census when using the iPad launcher has been corrected.
Issues with the display of the date picker on the iPad Launcher have been corrected.
November 3, 2020, Release Notes
User feature icons will no longer display after the end date of the feature subscription.
When a Chronic Care Management (CCM) CPT code is added as the primary CPT on an unsigned GEHRIMED encounter, if the encounter is unsigned, the record will appear as orange on the unsigned encounter ribbon. This feature allows your clinicians to easily identify CCM encounters and update them as needed throughout the month.
GEHRIMED users may now utilize the "scan documents" feature when adding new attachments to the Patient Record. Utilizing the feature, you can capture an image or images with your iPad's camera, and upload them directly the GEHRIMED. The scanned image or images will be saved as a PDF attachment on the GEHRIMED Patent Record.
The GEHRIMED Patient Census can now display up to 1,000 patient records. Additionally, an option to "exclude outpatients" has been added on the Facility Feed tab to hide records that have an Outpatient status in PointClickCare.
December 15, 2020, Release Notes
ICD Code refinement will now work as expected on the Charge Capture window.
GEHRIMED users with Rcopia can now delete duplicate allergy records in GEHRIMED. Only allergy records added to the GEHRIMED Patient Record from sources other than Rcopia can be deleted.
A new GEHRIMED feature is now available enabling users to view their entire schedule over a selected date range. The window displays all scheduled visits for the Provider in all facilities. This "My Schedule" feature is available in the Options menu.
A new option to "Replicate My Previous Assessment" has been added to the Assessment options dropdown when adding ICD codes to an encounter. Selecting the "Add All Codes + Assessments from My Previous Encounter" option will import the ICD-10 codes and associated assessment text from the Billing Provider's most recent signed encounter.
Patient Notes entered in the GEHRIMED Patient Record no longer require an end date. Notes without an end date will display on the patient's Active Notes indefinitely, until they are manually resolved by a GEHRIMED user. The end date will display as "Unknown" if a date is not specified.
MIPS Reminders
The 2020 MIPS/QPP reporting deadline is 3/31/2021. Please keep in mind that our Geriatric Practice Management QCDR allows you to report your data directly to CMS for a fee.
Preliminary 2021 MIPS eligibility for each NPI in your practice can be confirmed on the QPP website.
MIPS Quality Measures for 2021 will continue to roll out during Q1. If you haven't done so already, and you need to participate in MIPS, please create a MIPS Quality Strategy for your providers.
All customers of the Geriatric Practice Management QCDR for QPP reporting receive a MIPS coaching call during Q2 to ensure that your Quality Measures are prompting correctly and to ensure that you understand how the program has changed for 2021.
Tips & Tricks
Tip #1
Did you know that you can create notes related to patient care and attach these notes directly to the patient record? The contents of these notes are searchable using Advanced Search, so you're able to create reports for specific keywords or phrases related to patient care. Additionally, these notes may be set as "alerts," meaning that the contents of the note will open on the screen of every user who navigates to that patient's details or creates an encounter for the patient.
For example, let's say that I want to add an alert-type note for every patient who is on hospice care. I would search for the patient by name or click into the patient's details from the Facility Census screen, and then click the box shown below that says, "Active Notes." Then, click the button with the green plus sign, shown in the red box on the lower left-hand side of the screen, to create a new note.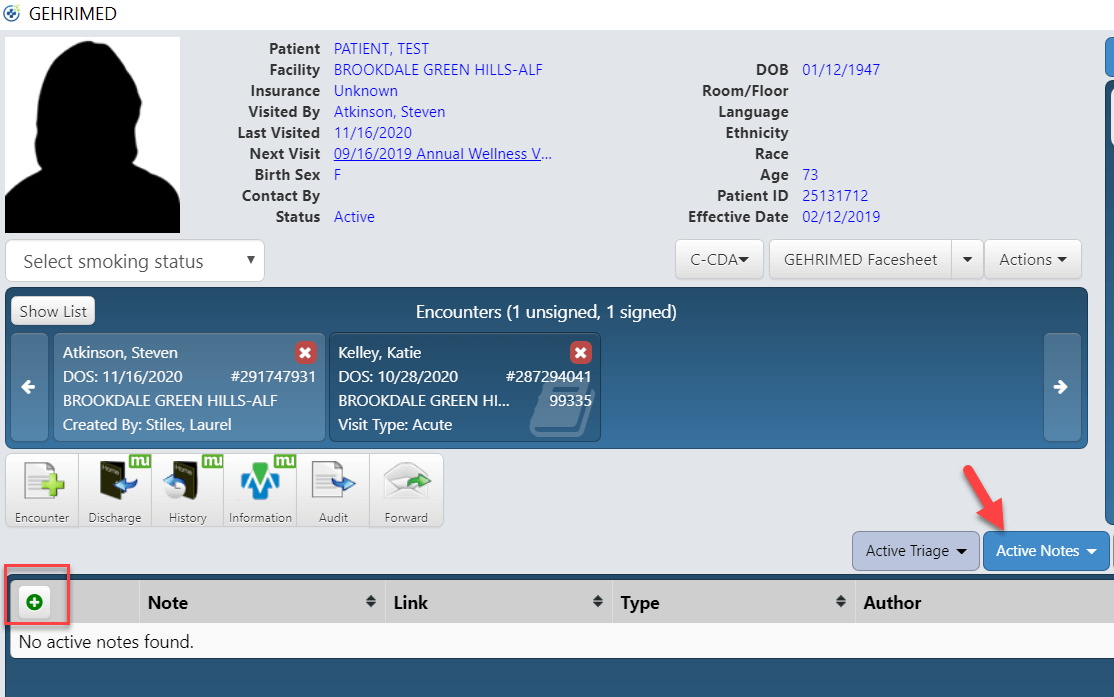 If your note is related to something that is temporary, you may choose to enter an end date, or the end date field may be left blank if there is no foreseeable end date. The text that you add in the "Note" field is the text that will be searchable. In this case, I included the phrase, "Hospice status," because that is the text I will search on in Advanced Search in order to generate a report of all patients who have Active Notes that contain the text, "Hospice status." Click "Save" to save and close this patient note.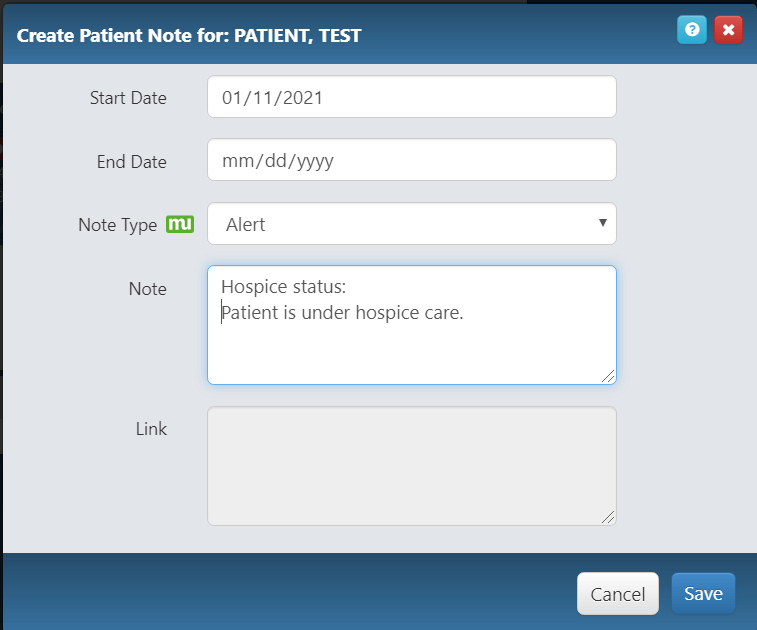 Now, the next time a user navigates to this patient, the following alert will appear: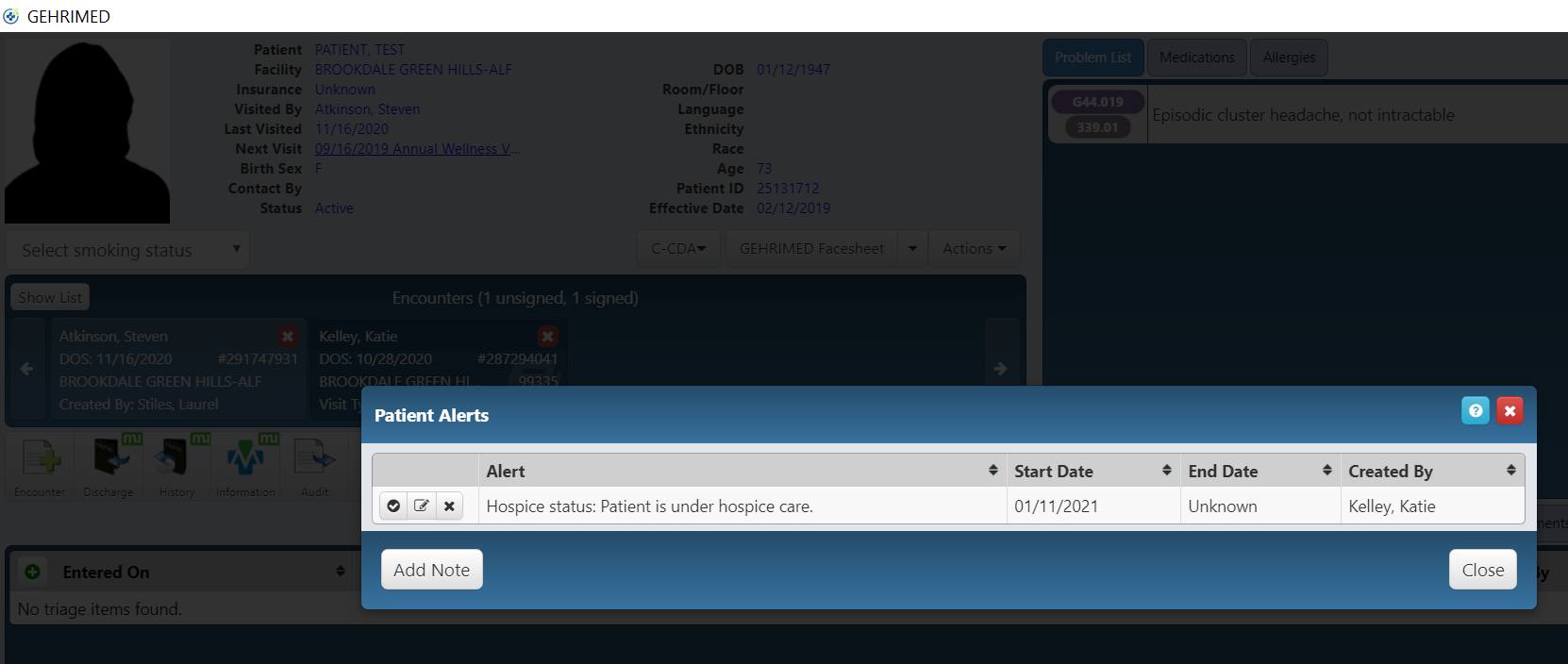 To create a report of all patients who have Active Notes that contain specific text, click the Search button on the home screen, and then click Advanced Search in the bottom right corner.

To find all patients who have Active Notes that contain the text "Hospice status," I would use the following search criteria. I can then either print or export my results into a CSV file.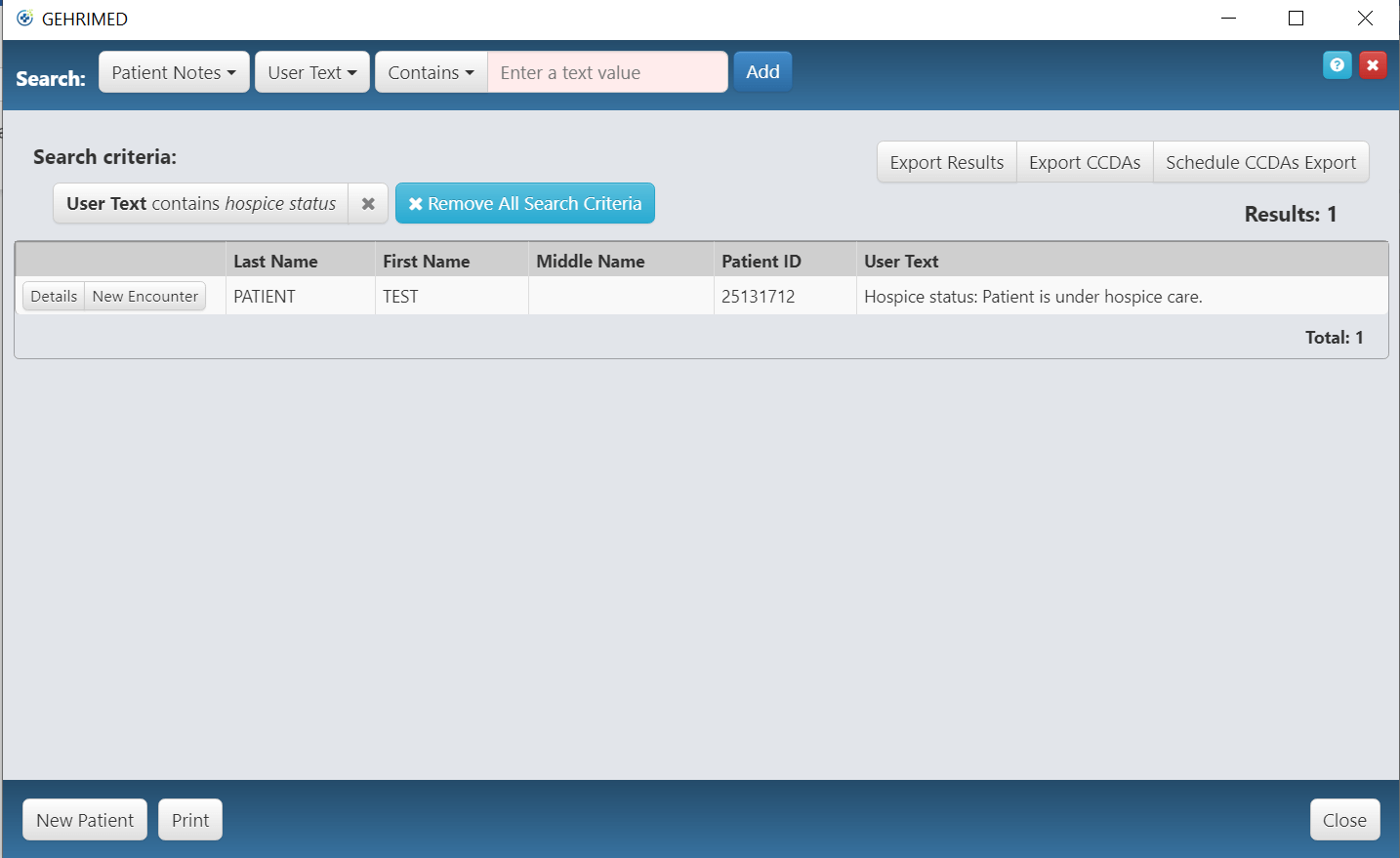 Tip #2
Did you know that if you are a Dragon 360 user you can create Macros in order to speed up encounter documentation time? A Dragon Macro is assigned a "Trigger phrase," which corresponds to a block of commonly used text related to a diagnosis or care. Once the Macro has been created in your GEHRIMED environment, you'll only need to say the trigger phrase for the entire block of text to appear in your note.
To create a new Macro, go to the Options menu and select Manage Macros.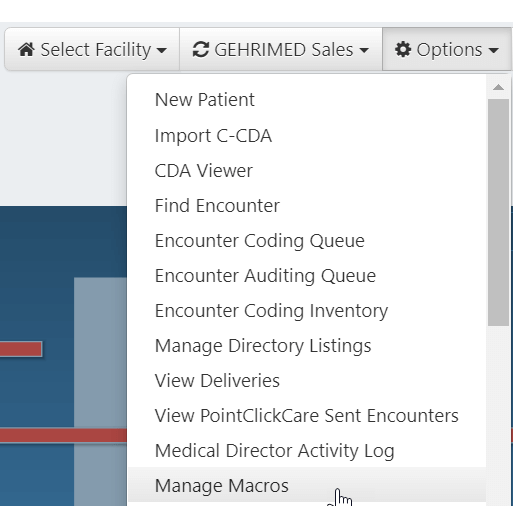 Click the button with the green plus sign to create a new macro.

Enter the Trigger Phrase as well as the corresponding text. We suggest using the word "Macro" in the trigger phrase in order to avoid Dragon accidentally recognizing words you're speaking during your normal documentation as a trigger phrase. Trigger phrases are best recognized when you speak them rather than type them, during the set-up process. Here is an example of a Macro for a coronary artery disease diagnosis: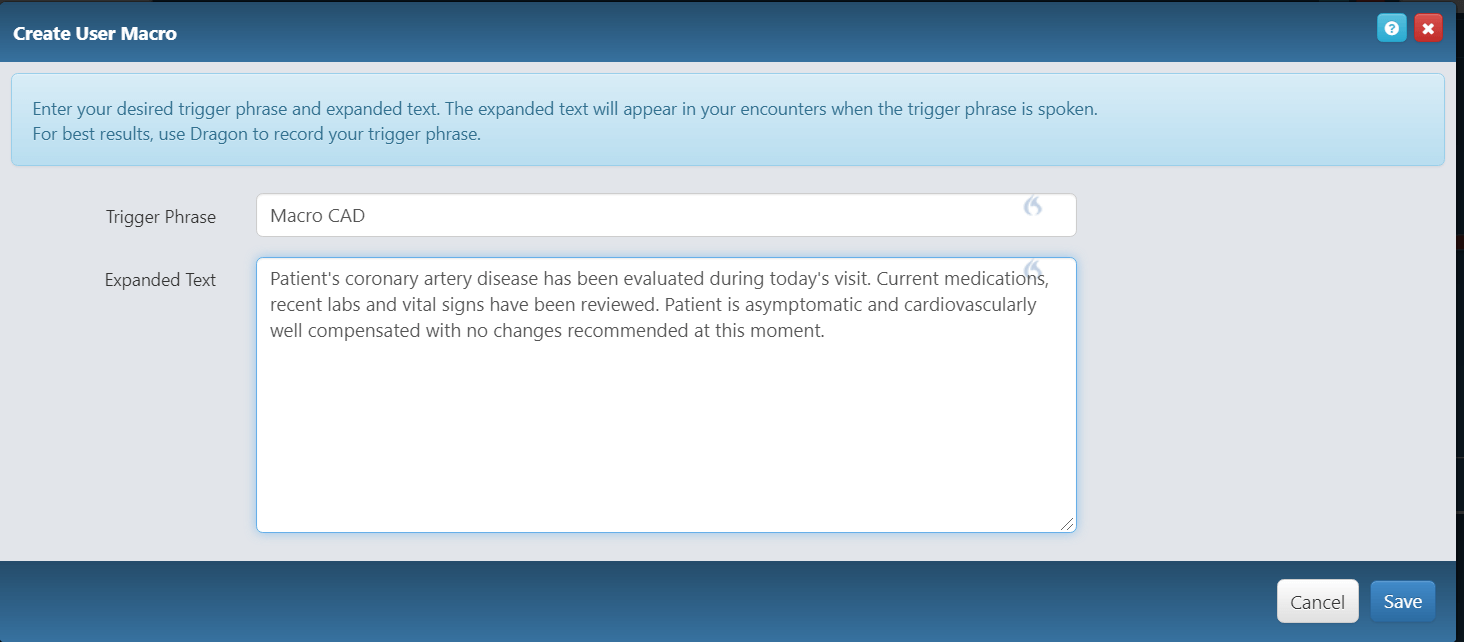 Once the Macro has been created and saved, as you are documenting in your encounter, click the Dragon microphone to turn it on, then speak the trigger phrase that corresponds to the Macro text you would like to insert. There is no limit to the number of Macros you can create.
Macros are easily edited and deleted from the Manage Macros menu item. Click on the pencil icon to edit macros and on the X to delete them. Please note that you may also manage macros by clicking "Options" within an open encounter note.

For more information about any of the topics addressed above, please reach out to GPM's EHR Trainer & Regulatory Programs Coach, Katie Kelley.