View GEHRIMED's custom '2019 Physician's Fee Schedule' Index
To help you more easily navigate through the MIPS proposed rule, GEHRIMED's Regulatory Team has compiled a Table of Contents (complete with corresponding page numbers for chapters/verses) for the 1,473 -page document.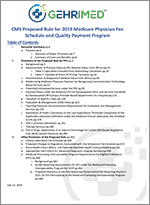 • Access the Table of Contents here
Additional Resources
Whitepaper
View the MIPS 2019 Propose Rule white paper to learn about the recent updates to the program and how these changes specifically impact long-term/post-acute care (LTPAC) practitioners. VIEW NOW
2019 Proposed Rule
Click here to view the 1,473-page proposed rule
Webinar
Coming Soon! Stay tuned for our 2019 MIPS Proposed Rule webinar, featuring LTPAC-specific highlights, proposed changes & what to expect for year three of MIPS!